How to better use time: the 3 principles
Time organization is of high importance for students, as well as for non-students. Every day has a limited amount of time, and only a limited amount of activities can be done in a day. And in the end, we all want the best outcome – either in the amount of joy that the day gave us, or in the amount of accomplishments.
In our team, we develop DayPipe and are quite obsessed with high quality usage of time, and high productivity. We created a 3×3 time organization matrix that we use in our work, which we find very useful in organization. So I wanted to share 3 principles from our 3×3 organization matrix with you in this post:
set the priorities (the task that needs to be done before all other tasks),
delete, delegate, do (as suggested by Blaz Kos in his Agile Lean Life writings),
and "go into the flow"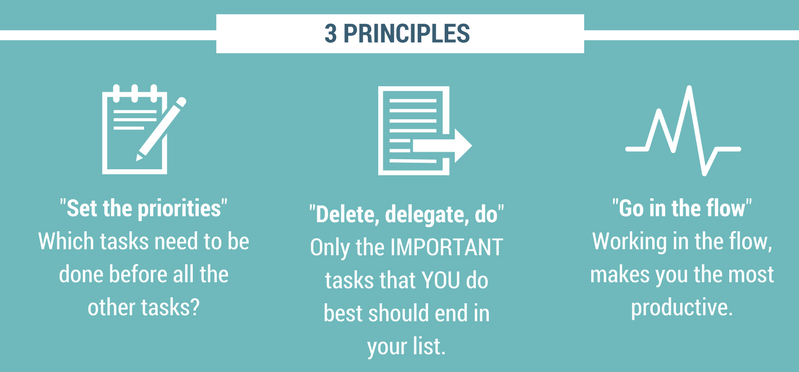 1. Set the priorities
To be able to properly set the priorities, one must first find the purpose of their activities. This part is further described in another article in our 3×3 time organization matrix, but a simple summary would be: you can not know what to do to get you closer to achievement, if you don't know what you want to achieve.
When you set the priorities, then all of the organization should be seen through the prism of those priorities. You will find it much easier to decide on which activities to pursue and which not to, and saying "no" which is often necessary, but hard to do, will become much easier.
In team, those priorities must be set team-wide.
2. Delete, delegate, do
In the order of the subtitle, buy medications online follow this rule: delete the tasks which don't get you closer to your priorities (e.g. say "no" to things that don't get you where you want to get), delegate those which can be done better by people around you (to whom you can delegate, of course), and do only the tasks that passed the first 2 filters. This will get you closer to actually doing the things at which you are the most effective – and combined with priorities, it will help you do the things where you are effective and which get you closer to your goals at the same time.
3. Go in the flow
If the first 2 principles can apply to both team and individual organization, then this one is purely individual. Each of us has the capacity to fall into the state of the "flow" – the state when one is focusing on the task (s)he is doing and is doing it with high quality and speed. Remember last time you were reading a book and being able to see everything described, or watching a good movie and feeling like you were there? Same can be achieved with learning, writing, and doing any other long-lasting task. Practice and try to "fall in the flow", and you will produce so much better results in much shorter time.
To achieve all that, one must limit the distractions and focus on the important stuff. Combined with other 2 triples from the 3×3 organization matrix and by using software like DayPipe, those 3 principles help at least us to do more and have more fun during our working sessions. Do you have any more secrets to share? Share them with us!